Investors in People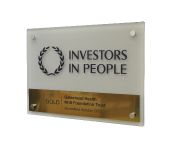 Brunel Engraving Company is proud to be associated with Investors in People.
Supplying over 70% of all nameplates in the UK for the IIP wall plaques.
Investors in People, launched in 1991, is the UK's leading people management standard. It specialises in transforming business performance through people. Over a third of the UK's workforce uses Investors in People today, and employers do so because they see a number of real business benefits.
Our vision is to make Investors in People the choice for leaders who want to deliver business impact and growth. We have have eight Investors in People centres across the UK and licence agreements in over 20 countries worldwide.
Read more about how the Investors in People framework has developed over the years or have a look at the work we've done with different partners and in different sectors.